Spring 2013 Newsletter
We are so ready for Spring! We are excited to introduce our "Spring Menu in Harmony with Cocktails", a  Prix Fixe dinner for $33 starting April 1. Our friends at North Shore Distillery have helped us craft the perfect cocktails to go with each course, or you can choose wine pairings from our exceptional international list - both are optional for $20. click here to view our full...
10 tags
Jan Newsletter
Join us this year for Restaurant Week from Feb. 1 to 10th with a special pricing of $33 for a 4 course tasting menu. A special Champagne and wine pairing will pair perfectly with each course as an optional choice. http://www.choosechicago.com/things-to-do/dining/chicago-restaurant-week/ Restaurant Week Menu February 1 to 10, 2013 First Course Choice of: Spring Roll (Traditional, Daily...
Support your favorite small business
This November 24th is Small Business Saturday®, a day to celebrate and support the local small businesses that boost the economy and invigorate neighborhoods across the country. Saigon Sisters is proud to take part in Small Business Saturday, and we're encouraging everyone to Shop Small® here on November 24th. Plus, we're having a special Small Business Saturday offer! Come in on November 24th...
The 50 Best Sandwiches In Chicago by Chicago Mag
The Hen House Saigon Sisters Caramelized chunks of dark and white meat chicken meld with a lemongrass-ginger marinade, and the ever-important baguette attains the flawless combo of chewy and crusty, ensuring that this banh mi rules the roost. - Chicago Magazine
5 tags
6 tags
Introducing our 3rd location at Northwestern...
Saigon Sisters is pleased to announce a new addition to the family - introducing a third location in Northwestern Memorial Hospital at 251 E. Huron St. in downtown Chicago. This new Streeterville location will feature a 1,100-square-foot newly designed space for Saigon Sisters, as well as general seating available in the food court on the second floor of the Galter Pavilion. Expect the same...
6 tags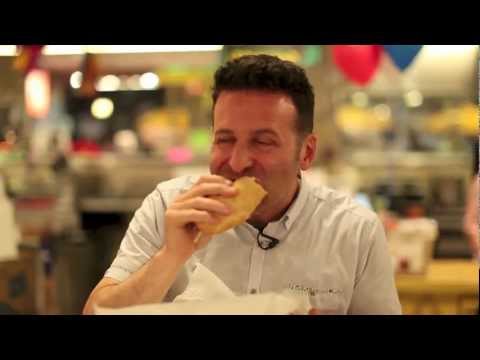 8 tags
September Newsletter
Now that the Air & Water show is over, we all know that fall is just around the corner. It will be a busy September for us and we hope that you will join in these fun events after Labor Day weekend. We are excited to be sampling our tasty dishes to go with the great wines & spirits at Millenium Park for the Bon Appétit Chicago Gourmet on Sept. 30th in Millenium Park. We will also take...
8 tags
June Newsletter
We <3 MCA Farmer's Market Every Tuesday until Oct 25, 2012, 10 am – 2 pm We are excited to be back this year serving our Classic Banh mi, Vegetarian Banh mi and Spring rolls. You can enjoy them on a picnic, at home, or on the steps of the MCA every Tuesdays starting June 25th. While you are there, check out wonderful fresh produce, flowers, and cheese from the local farmers and...
7 tags
April Newsletter and Events
BACONFEST CHICAGO 2012 (Saturday, April 14 2012) It's that time of year again…Saigon Sisters is proud to be a part of this year's Bacon Fest! A day-long celebration of the decadent meat that's not just for breakfast anymore. Chef Matt Riordan has assembled a delicious snack for the festival that shows off a bacon twist to our Vietnamese cooking: The Nueske's Bacon Pho. A bowl of...
1 tag
Bold & Zesty
It's been nonstop days of cold & wind, hearty soups, & carbs. I'm really craving for a dish that evokes the warm shores ahead (like a beach in Phu Quoc or ANY warm sandy beach right now is good too). I saw what looks like a grapefruit on steroids at an Asian grocery & knew exactly what to do. This grand daddy of citrus fruit can grow up to the size of a basketball from...
8 tags
Lobster Fridays For Lent!
Every Friday this Month, we will be cooking up a special Banh Mi for our Lent Special. Our Lobster Banh Mi will make your mouth water.  Mmm hmm it will be a good Friday indeed.  *only available at the restaurant location
7 tags
Restaurant Week Pick: Saigon Sisters →
Warm up your palate with a spicy, sweet and salty Vietnamese prix fixe. February 27, 2012 This menu will be extended until march 10. Quickly rising from a French Market curiosity to a stand-alone lunchtime spot, Saigon Sisters has become Chicago's paragon of Vietnamese cuisine. The West Loop eatery's prix fixe dinner ($33) includes three courses of authentic Vietnamese fare. Dishes range from...
4 tags
Sandwich of the Week - The Ducky
ARTISANAL TEAS
Announcing our new Tea Service. ARTISANAL TEAS From Rare Tea Cellars (price per serving) FLORAL  $9     Litchi Noir (black)  Earthy, silky     Emperor's Chamomile (D)  Pineapple, stonefruit TOASTY  $12     Emperor's Genmaicha  Green, puffed rice kernels     Gingerbread Dream Rooibos (D)  Aromatic, holiday spice DECADENT  $15     Moonlight Jasmine Blossom  Green, soft, delicate     First Flush...
10 tags
Happy Valentine's Day, Restaurant Week!
Saigon Sisters presents a special menu for Valentine's Day where duck is the starring role in the dishes. Special Duckavore Menu is available on Sat. 2/11, Mon 2/13, Tues 2/14. Please specify request for Duckavore menu when making reservation. Whole Roasted Duck are prepared in 3 out of 4 courses for $49 per person, excluding tax and gratuity.  Optional wine pairings for $40 per person. ...
6 tags
Year of the Dragon 2012
Brace yourself, winter is here and we are prepared to warm your belly and nourish your soul with comfort foods the Saigon Sisters way.  Pho is one of most popular dishes and we made a special oxtail broth with Bison carpaccio and house made sambal only for dinner. An homage to our grandma's hometown Hoi An and a specialty dish there, our Cao Lau is made with fresh egg noodles, braised pork...
8 tags
We couldn't be more proud! Michelin Guide...
1 tag
Sizzling Crepes
Many people think the sizzling crepe called banh xeo is a gift from France, but I think it's from India. Influences from China, India, Thai, & France are prominent in Vietnamese food. The use of rice flour, turmeric, coconut milk, & mung beans are common in Indian cuisine & not so much in the French pantry. This is enough to justify my belief for it's influence being more...
14 tags
Happy Holidays!
Come celebrate 2nd year Anniversary and the HOLIDAY SEASON at French market as it transforms into the first ever Night Market on Thursday, Dec. 8th from 4 to 9pm. We will be serving small bites such as duck spring rolls, banh mi slider, belly bao paired with Champagne, Cocktails and Wine for $15. Shop unique gifts curated by Saigon Sisters such as Vietnamese Coffee Kit for 2 and...
1 tag
Light Show
Pickling Money money money Enter
The Season of Autumn
October Updates: October was a busy month for us! We made our first appearance at Dose Market on the 16th and our deluxe spring rolls were a hit!  And we will be back in February 2012. Chef Matt Riordan was the featured Chef for the French Market's monthly Dine Around the Market event.  He prepared lemongrass prawns with a tangy Vietnamese slaw and his signature fried rice with winter melon. The...
4 tags
Phở-no-me-nal
Most countries have an iconic dish that represents their culinary culture. In the United States it's the hamburger, in Italy it's pasta, Mexico it's tacos, & in Vietnam it's pho. You'll see people eating pho everywhere in Vietnam at any hour of the day from either one of the hawker's stall or in their own home. Growing up, pho was a breakfast staple for us. Now we love eating it for...